Quokka Brew:
Caffeinated Jitter-less Energy
The First Caffeinated Energy Drink
with No Jitters & No Crash
Based in San Francisco, CA
The campaign is now fully funded and we are no longer accepting new orders at this time. Regular orders will open shortly. Thank you to all who supported!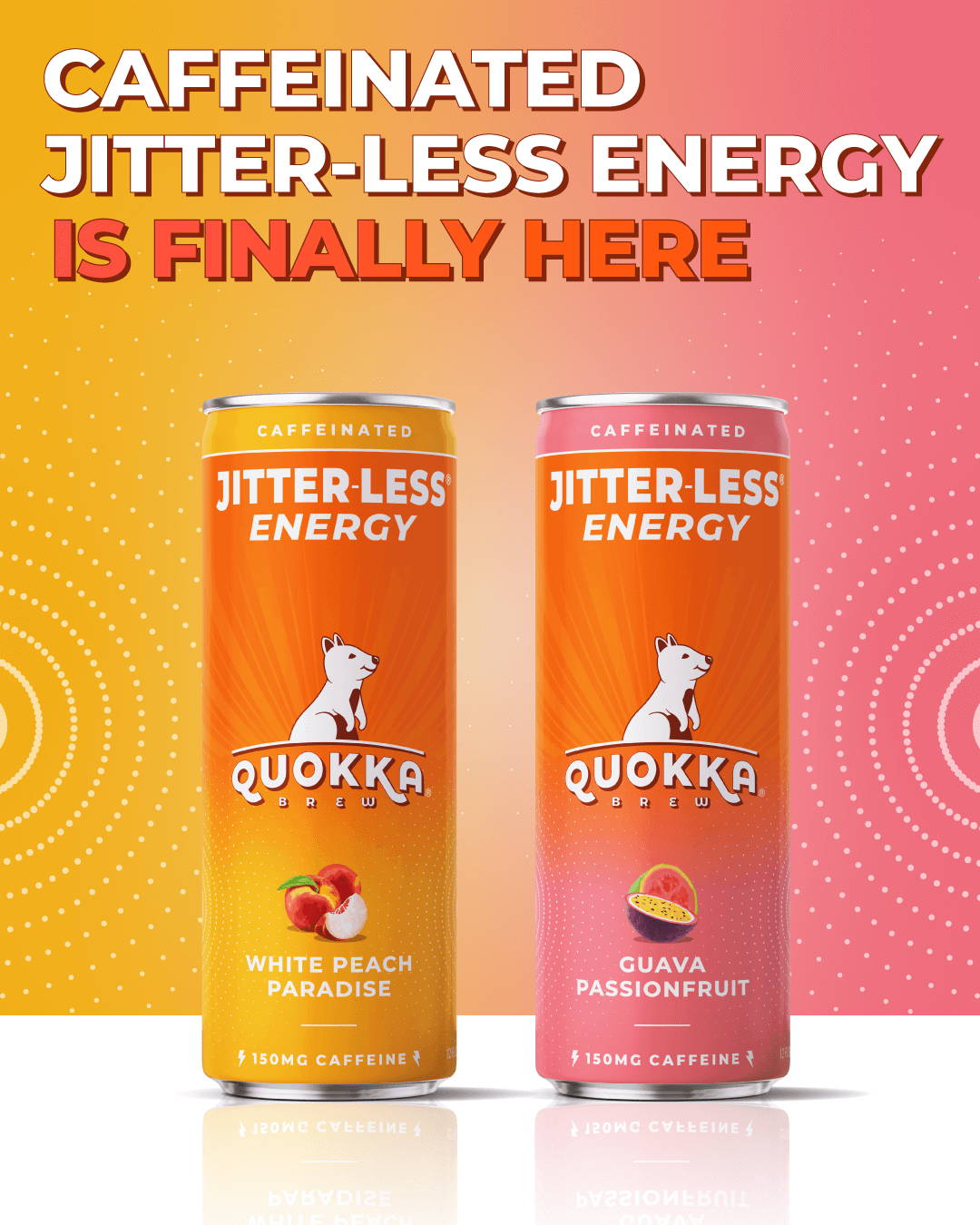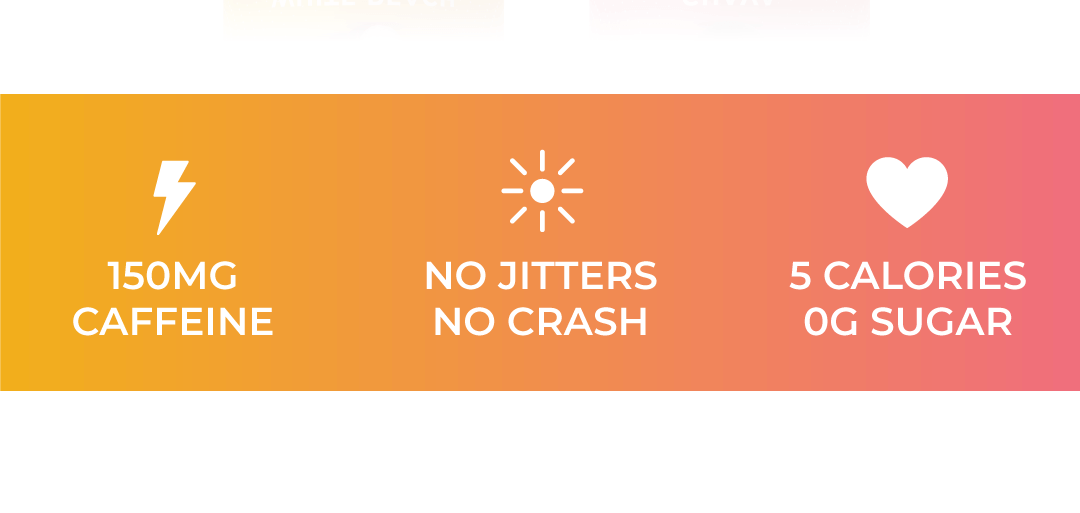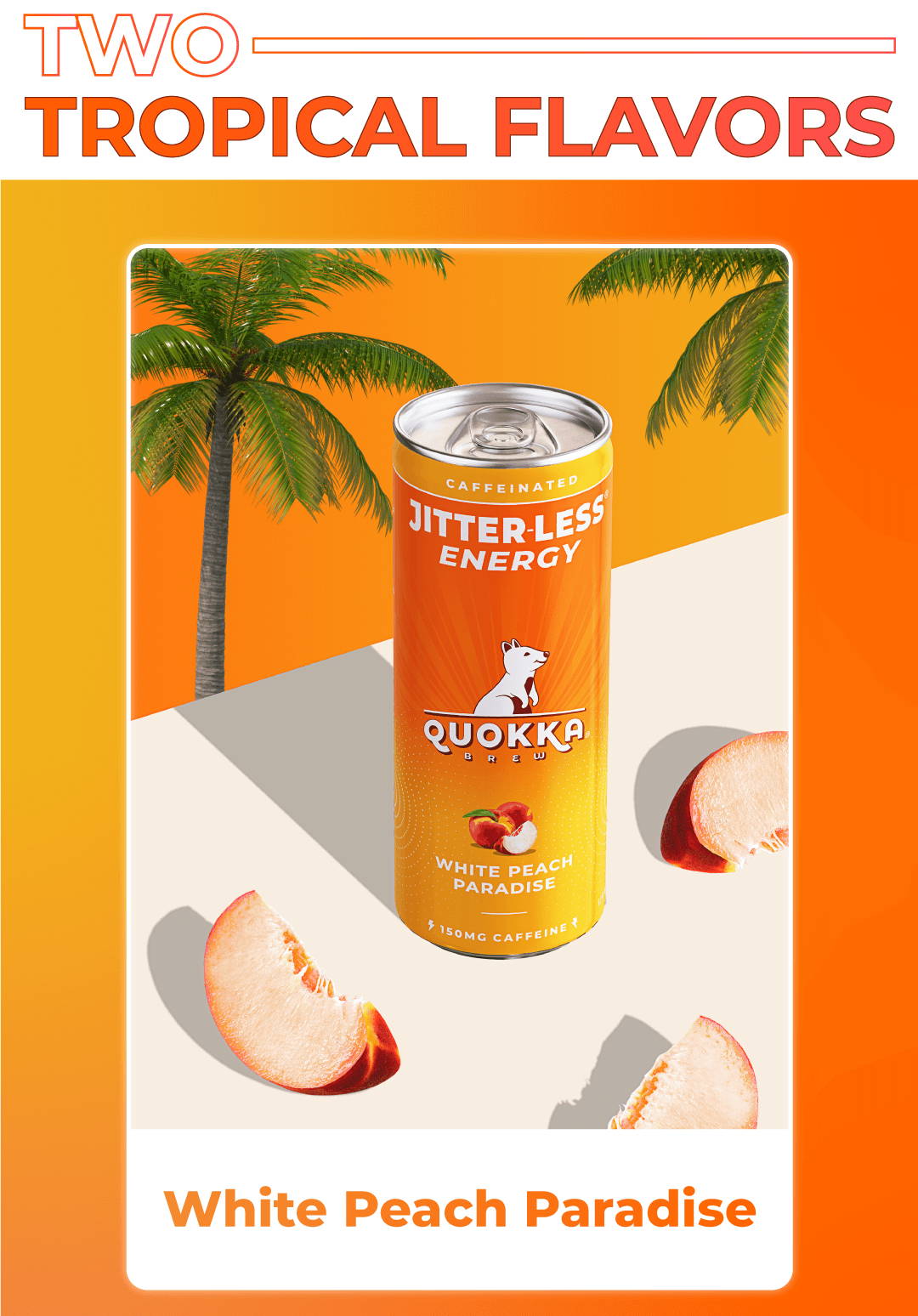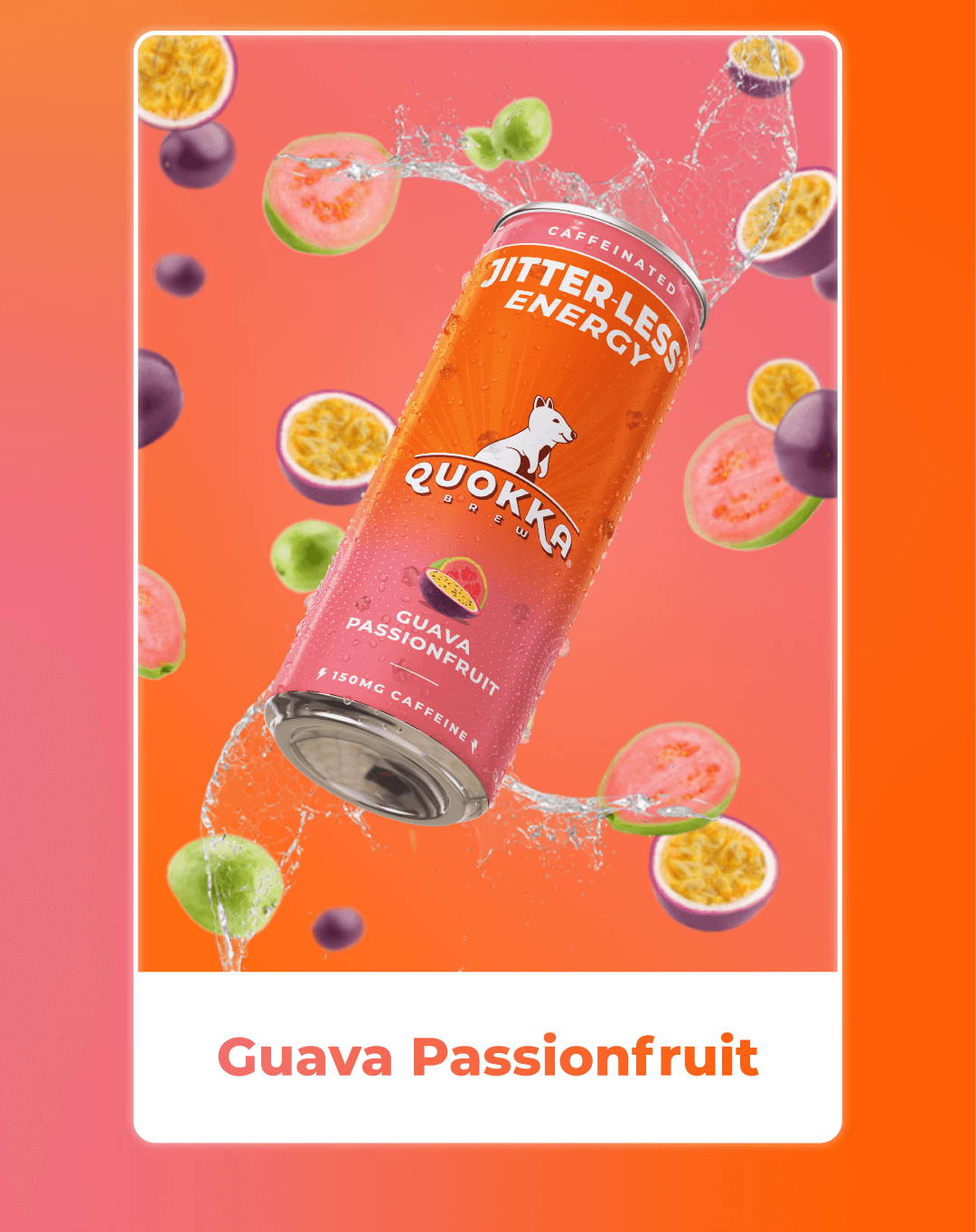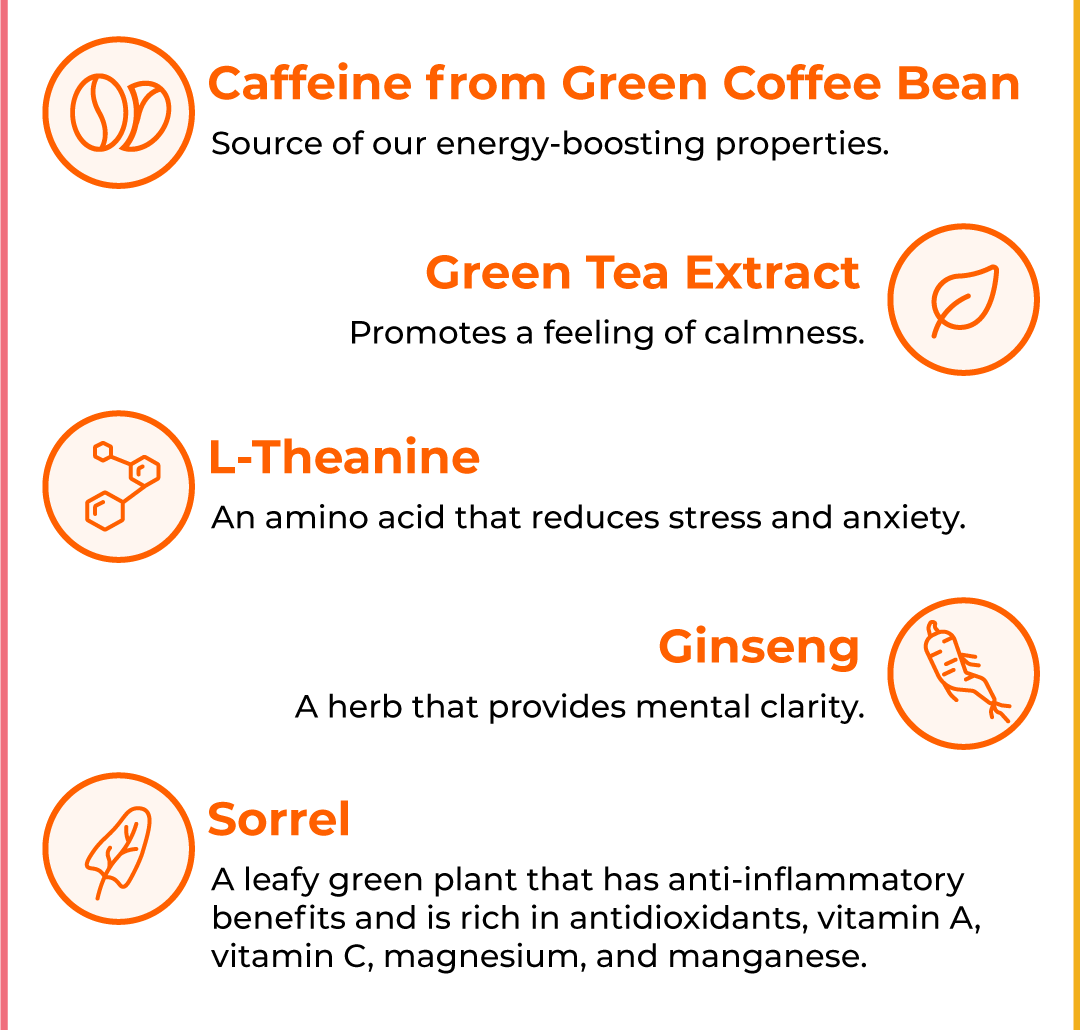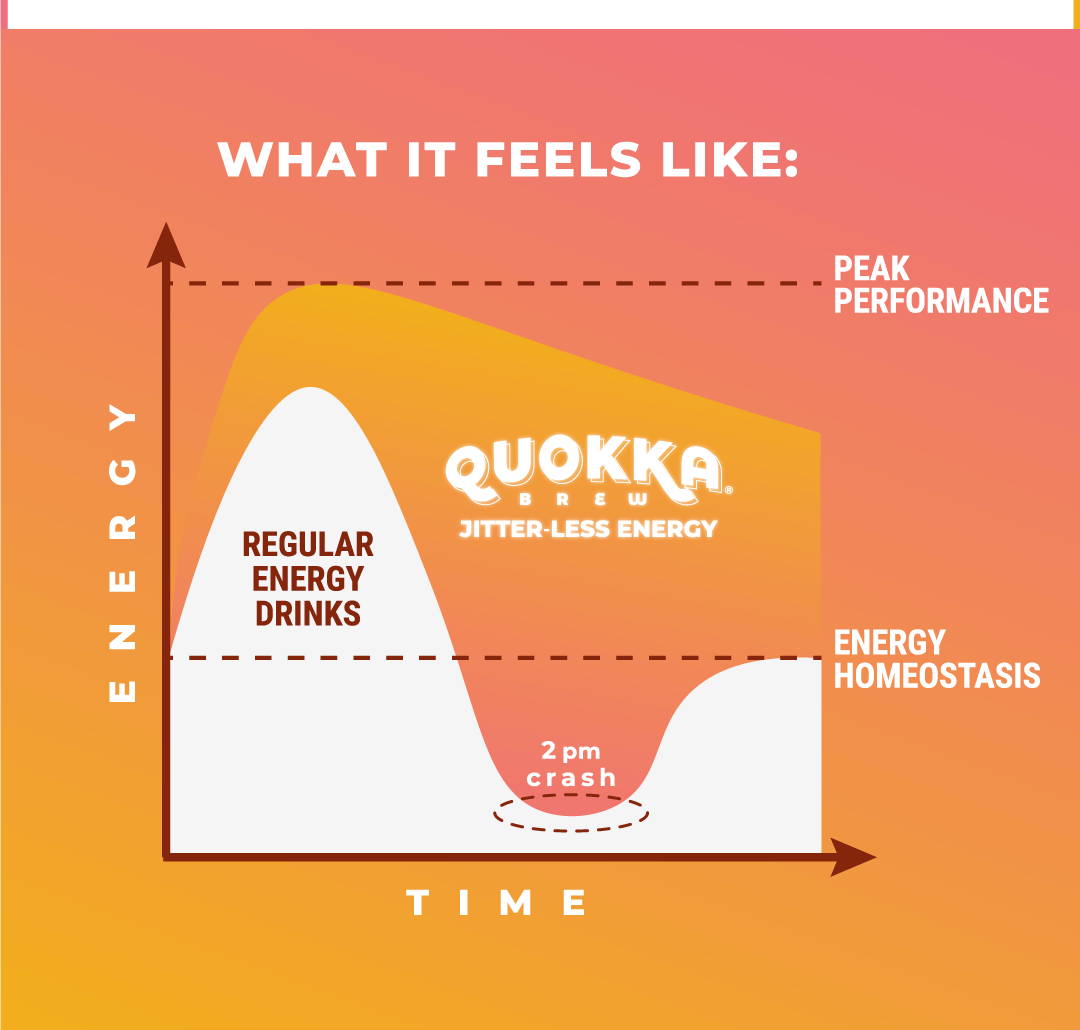 Our goal at Quokka has always been to revolutionize caffeine, enabling us all to get energized without the jitters or crash - and that does not just stop at coffee.
The money from your orders will help us fund our production runs for our energy drinks, so we can share these new creations with the world!
As a thank you for being early believers, this campaign offers the lowest pricing we will sell our energy drinks for.
Thank you for being part of the Quokka Crew, and believing in us and Jitter-less Energy!

We chose the Quokka to represent us for more than just its adorable face. A Quokka is a small marsupial from Rottnest Island, just off the coast of Australia, and is deemed the happiest animal in the world!
While Quokkas evolved, they had a limited number of natural predators. This freedom led them to become innately fearless and confident. Inspired by these mighty animals, the idea behind Quokka Brew is to create caffeinated beverages that energize us without the negative side effects of caffeine, pushing us to become our happiest, most confident selves—just like the Quokka!
Fun Fact: These cute animals are dubbed the selfie kings of the world! Don't believe us? Google it!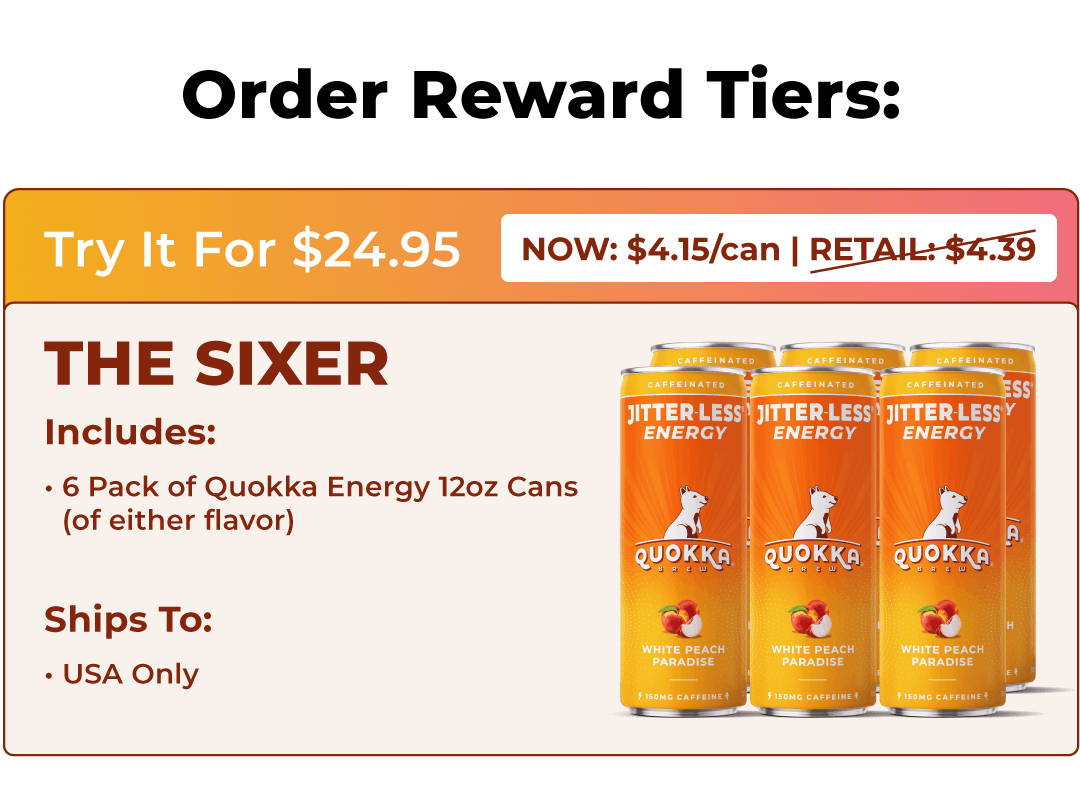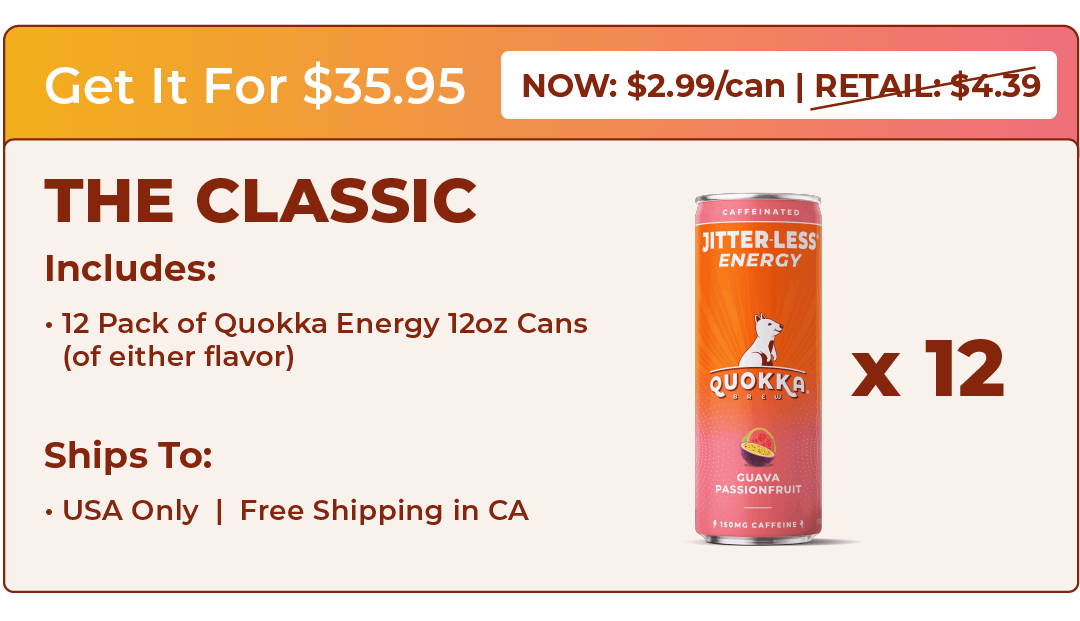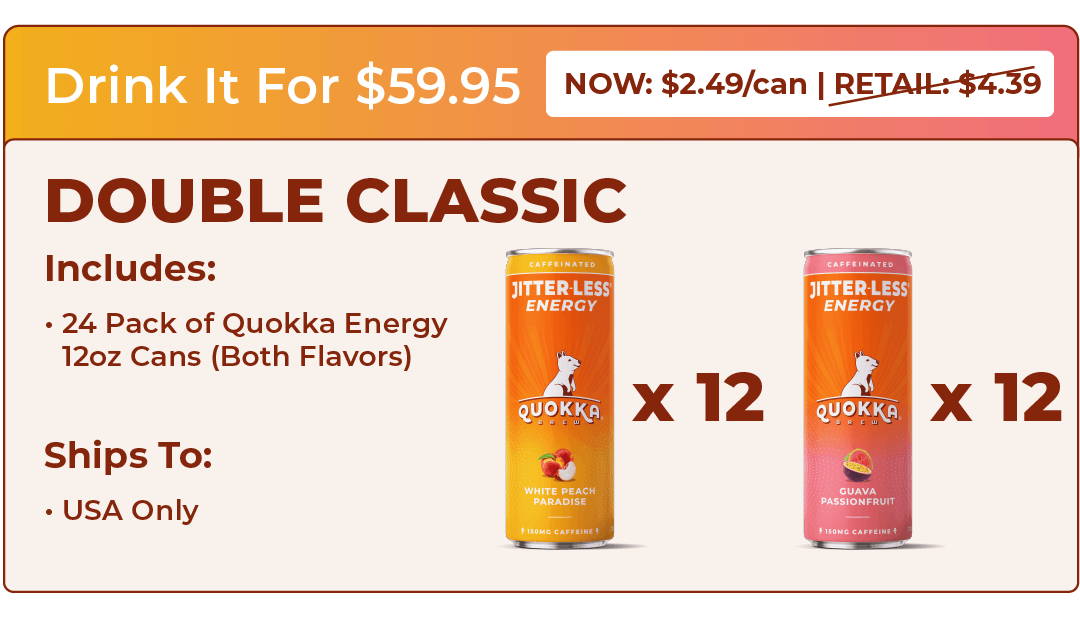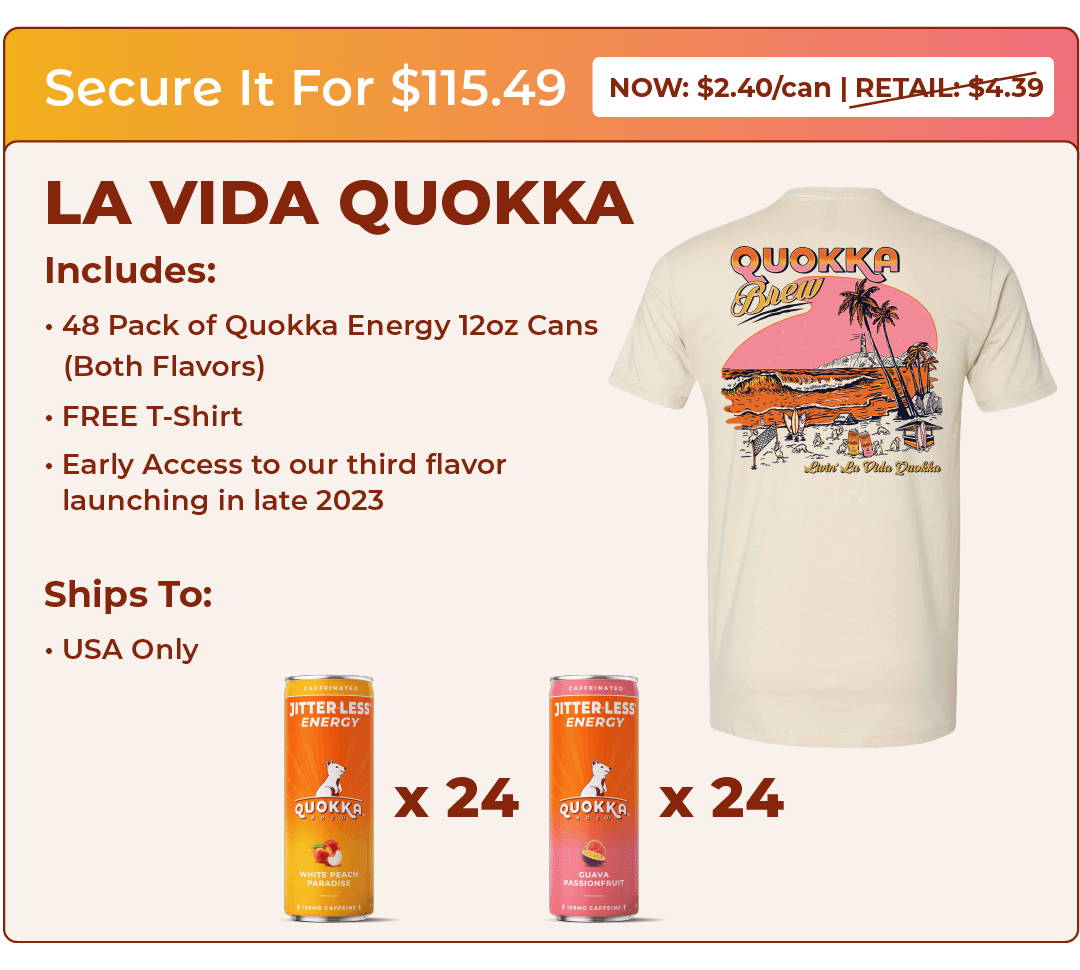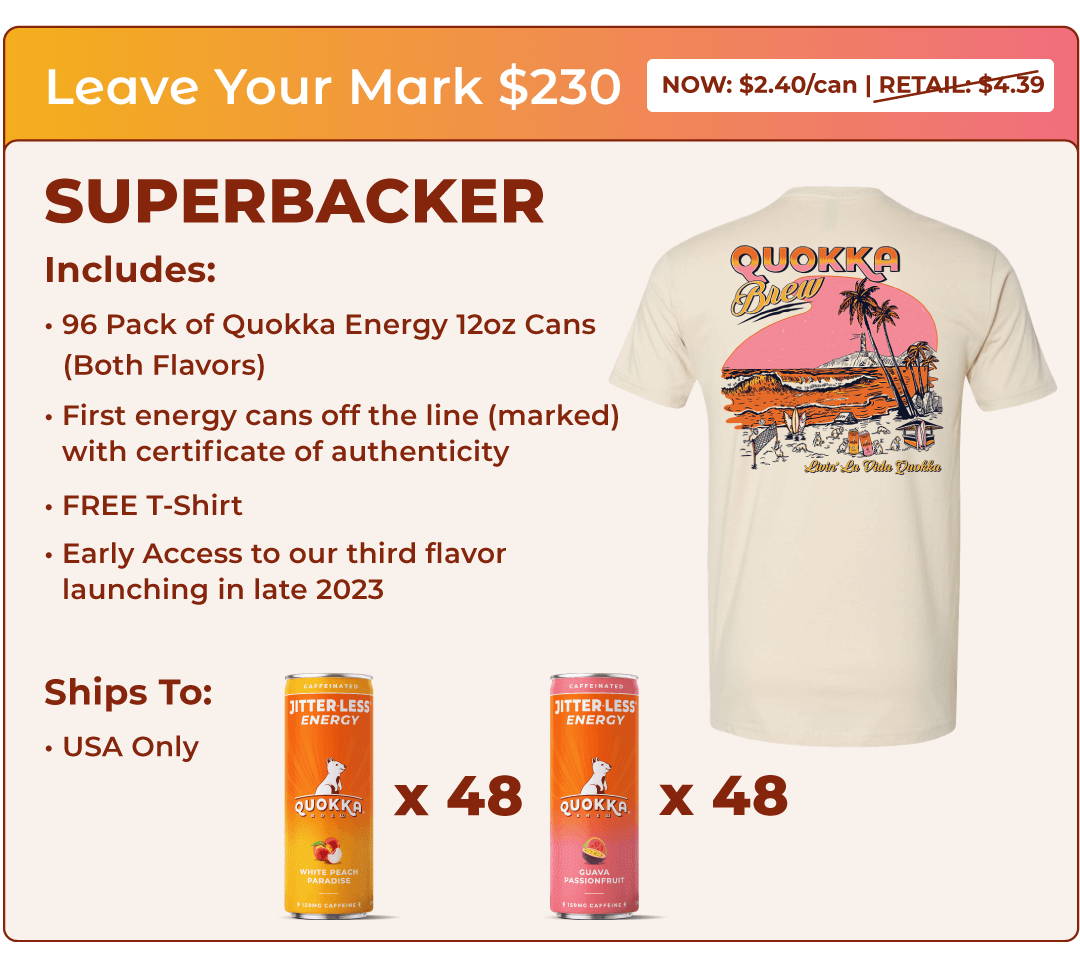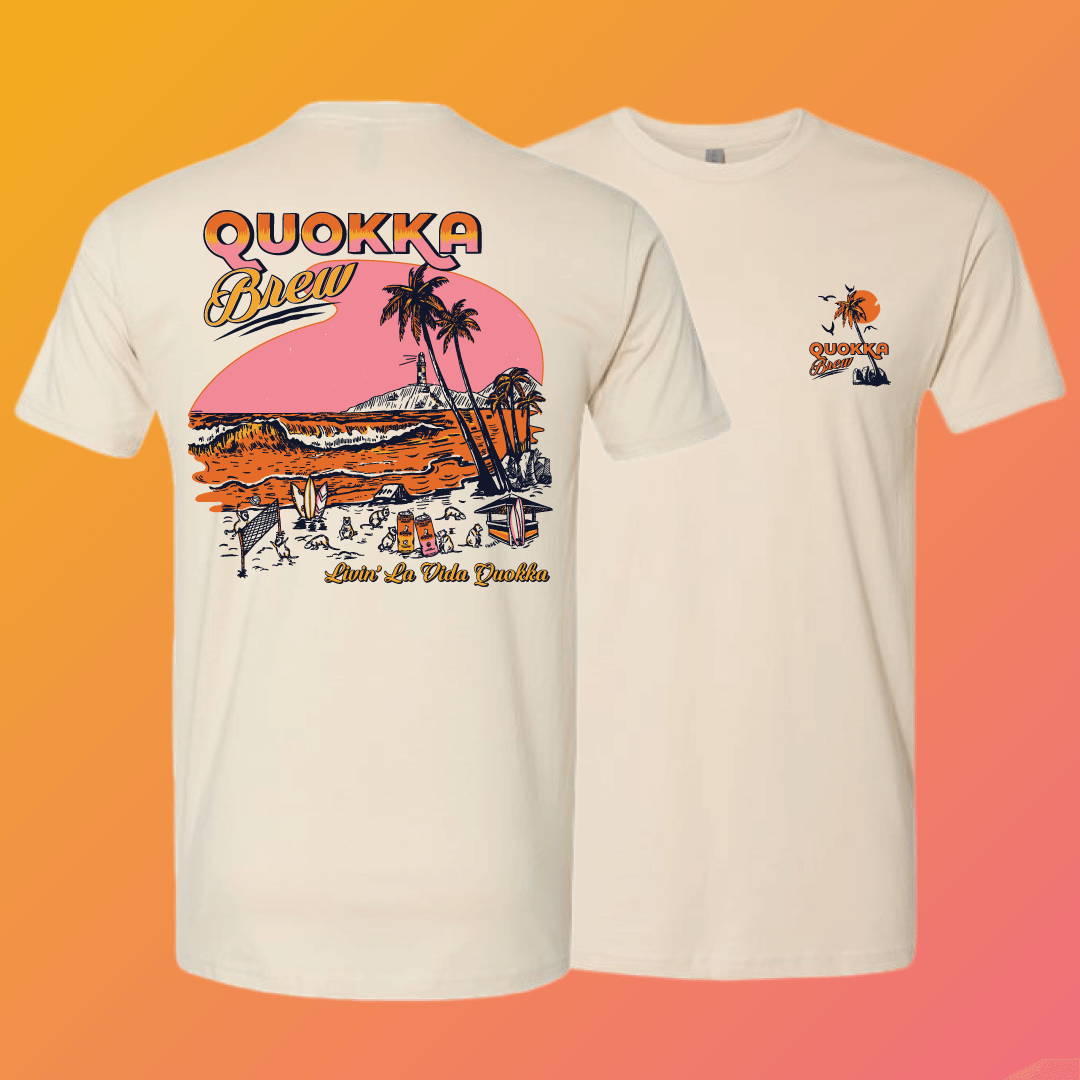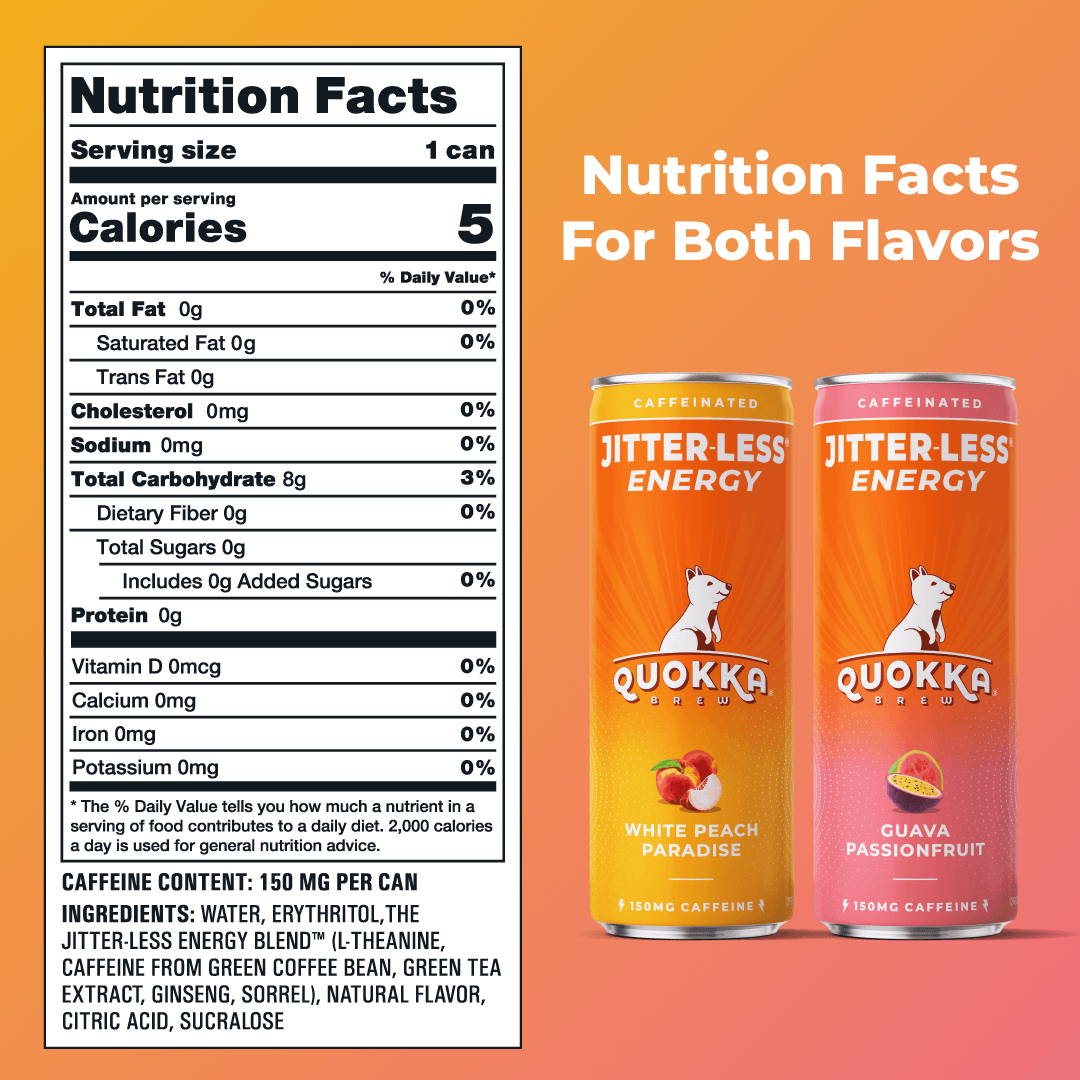 Yes - Our Jitter-less Energy drinks have 150mg of caffeine, which is equivalent to 2 cups of coffee!
Why do we get the jitters, and how does our Jitter-less Blend® negate them?
By nature, caffeine is a vasoconstrictor, meaning it constricts our blood vessels—leading to a decrease in blood flow. This causes an increase in our heart rates, and results in us feeling jittery and anxious.
Our Jitter-less Blend is made of organic ingredients found in green tea. Our ingredients are vasodilators —meaning they allow our vessels to dilate back to their natural state and for blood to flow more freely; therefore, our heart rates remain constant and we do not feel the negative side effects associated with caffeine, but our brain receptors are still activated by the caffeine and we feel the energy.
Additionally, our blend provides an elevated state of focus and mental clarity!
When will my order be shipped?
All orders placed by August 18th will be shipped on August 21st, 2023
Does Quokka Brew still make coffee?
Yes, we still make our Jitter-less Coffee! We have a chocolate and vanilla oat milk latte available for purchase.
Check us out at www.quokkabrew.com or order us through Amazon!